With this cutter, you will be able to cut out a straight line, curve line, arc line or many other irregular lines and shapes.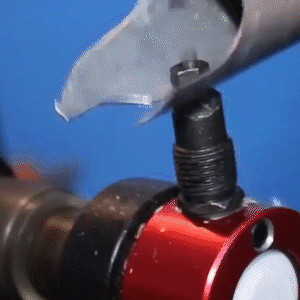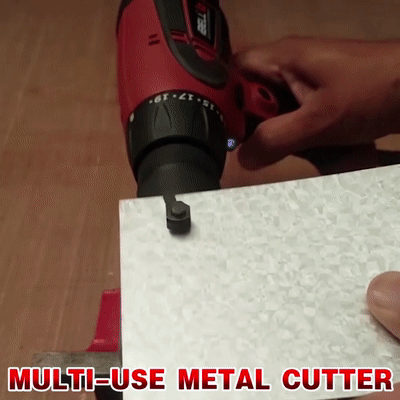 For any cutting task: Suitable for cutting of various materials such as sheet metal, corrugated material, pipes, complex profiles, powder coated material, stainless steel, copper, aluminum, formica, plastic, fiberglass etc.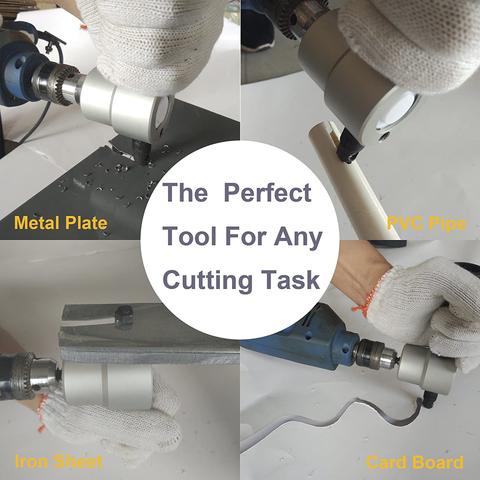 Wide application: Suitable for

car repairing and maintenance, metal sheet, gutters, roof sections, complex shapes or stencils.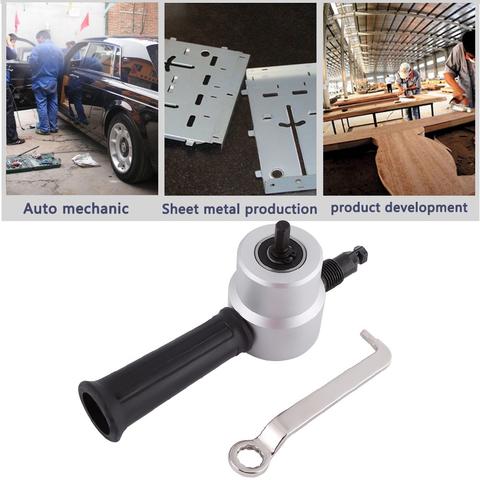 Easy use and control: Easily fit into any standard drill that

works between 1500-3000 RPM.

More easy and powerful

than normal shears and snips.

Compact size, easy to operate and labor-saving.

Easy and fast to cut 14 gauge material and creates a precision, burr free edge,

360 degree double cutting head to

cut straight line, curve line, circles, or many other irregular lines and shapes.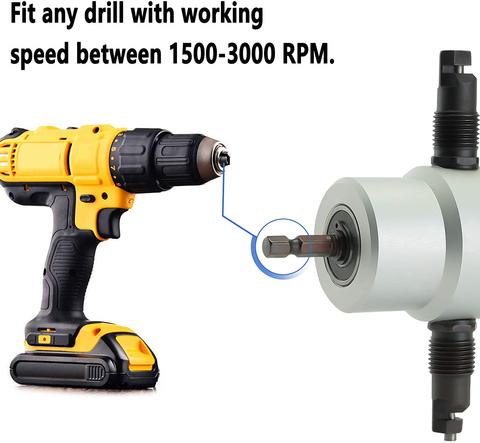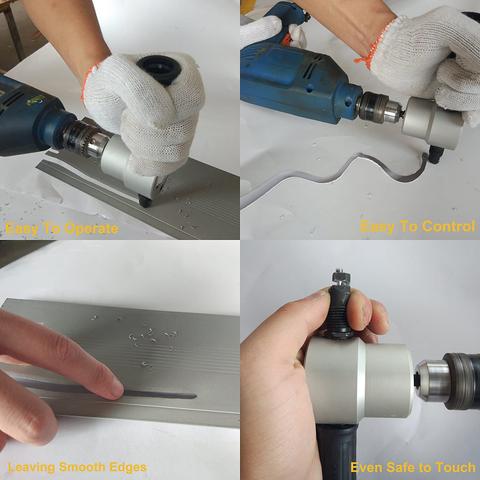 Double headed: Creative design with

double heads,

which is more

powerful and durable

than single head nibbler. Ergonomic design ultra-grip handle offers comfort, superior control, maneuverability and increased safety.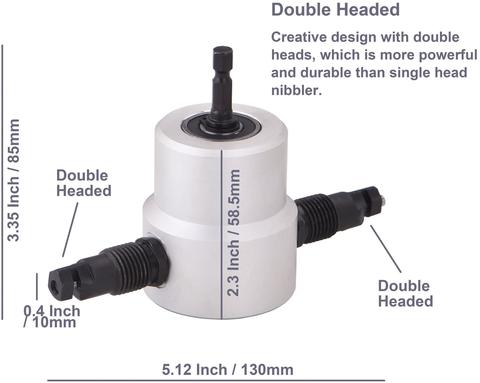 Key features:
Cutting Heads adjust

360°

for easy cutting in any space

No distortion

of material
Cuts corrugated, round, or flat materials

up to 14 Gauge

(2 mm thick) (varies by material)
Compact size, easy to operate and labor-saving.
Unique

convenience

and

durability.

Excellent cutting

speed by 6 feet(2 m) per minute with 3000 RPM.

Best cutting result without any burrs at the cutting edges.
To be fitted with any electic drill or power drill with 3000RPM.
Different cutting shapes available.
Specifications:
Weight: 480g.
Speed range: 1500-3000 rpm.
Minimum cutting radius: 12mm.
Adaptable: 8mm electric or pneumatic drill.
Allow cutting thickness: Ordinary iron plate: 1.8mm; Stainless steel plate: 1.2mm; Copper, aluminum plate: 2mm; Plastic plywood cart: 2mm.
Cutter Package Include:
1 x Host.
1 x Handle.
1 x Allen wrench.