Encounter a bottle with a different size mouth, but no spoon to get out the spices inside?Can't put in the exact seasoning when cooking?
Stackable Magnetic Measuring Spoons Set of 8 Stainless Steel Measuring Spoon with leveler, Fits in Spice Jar, Flat Dual Sided teaspoon for Measuring Dry and Liquid Ingredients
【STAINLESS STEEL MEASURING SPOONS】- measuring spoons are made of premium stainless steel which have sturdy construction and brushed finished surface, They are a integrated and very smooth, so no nooks or crannies for dirt to hide, will not rust, bend, or deform. After using the spoons you can easily put it in dishwasher.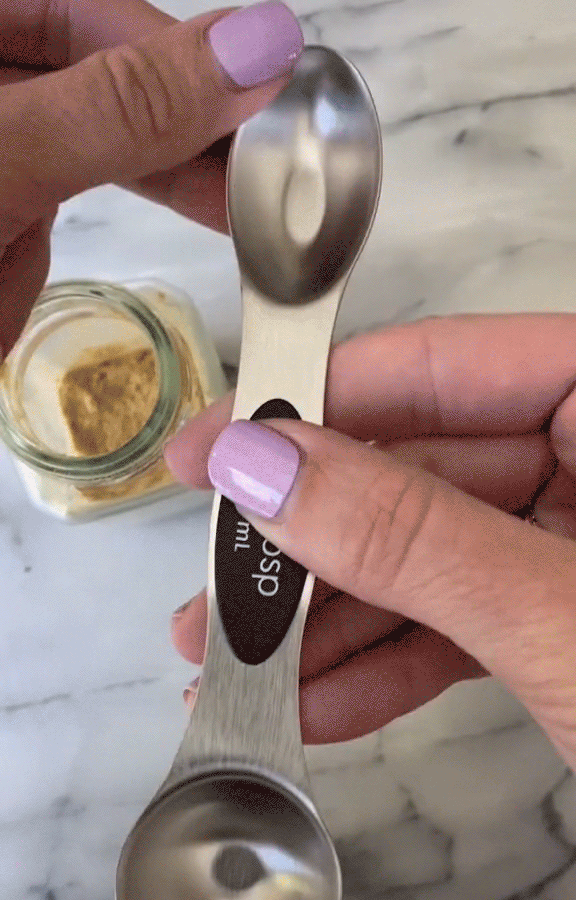 【ERSATILE DESIGN 】- These magnetic narrow stainless measuring spoons are great for measuring coffee, protein powder, spices, baking powder and more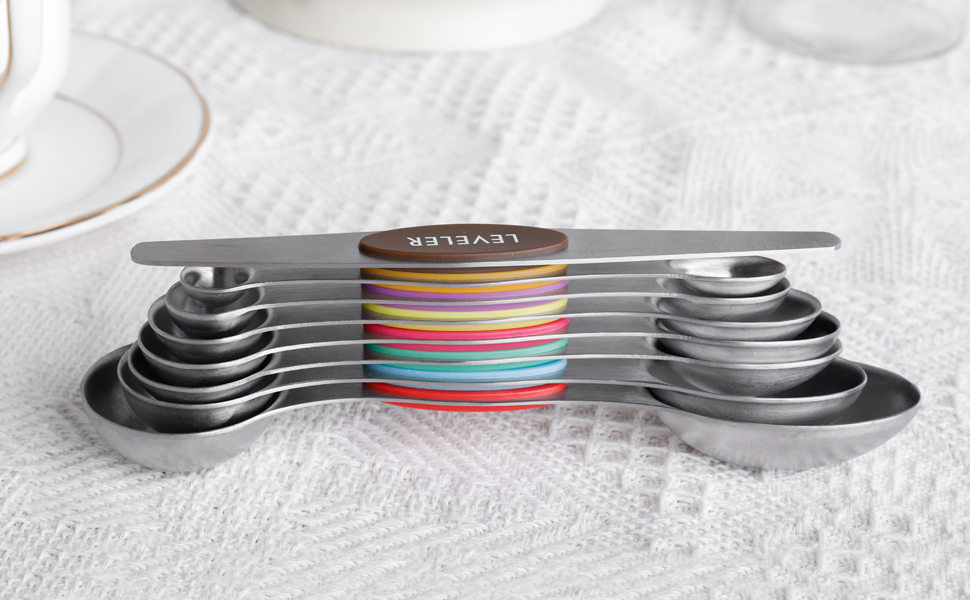 【 MAGNETIC MEASURING SPOONS SET】- 7 measuring spoons with 1 leveler to help you accurately measure spices. measuring spoons double ended design , It's like having two sets,can be fitted to any bottle mouth. Different size:1/8 tsp, 1/4 tsp, 1/2 tsp, 3/4 tsp, 1 tsp, 1/2 Tbsp, 1 Tbsp plus Leveler. Color-coded labels allow you to quickly find them while cooking,accurate and easy to read tsp/tbsp & mL measurements.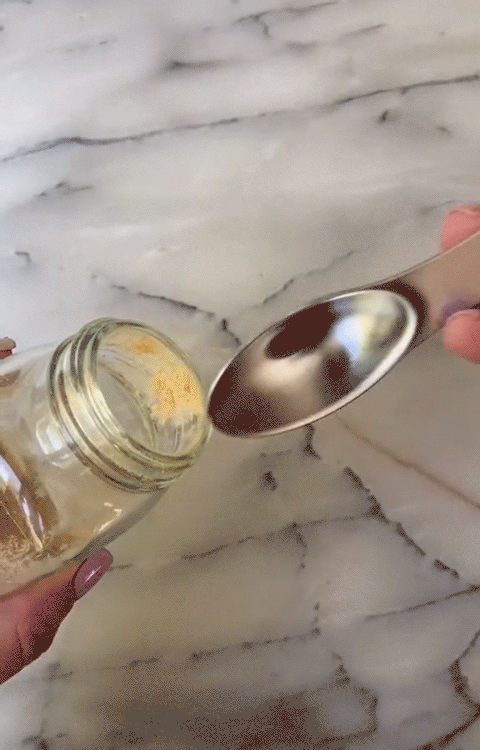 Double head design, can accurately measure liquids, powders, and even solids. Central magnet design for easy storage.And if you have a recipe that calls for the same amount of a dry and a wet ingredient, you can use each end of the spoon.Measure Accurately, Easy Use and Storage, Perfect for Cooking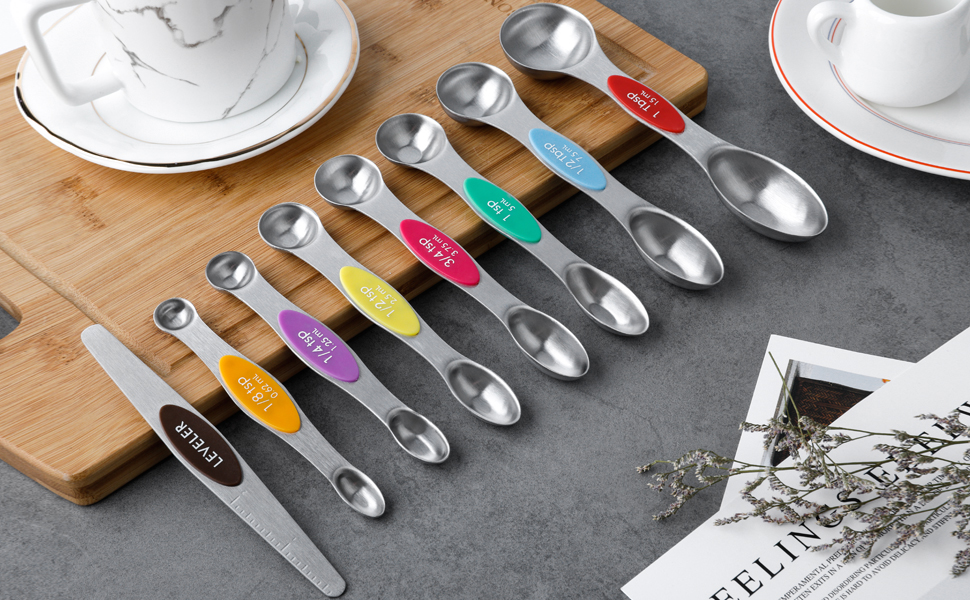 【DOUBLE SIDED MEASURING SPOONS 】-The measuring spoons double ended design makes it compatible for measuring the dry and liquid Ingredients,round end measuring liquid ingredient , narrow oval end can fit in most spice jars or bottles. Measuring spoons flat on the bottom and they don't spill. With the included leveler you can measure the exact amount for your recipes.
Double-Sided stainless steel measuring spoons dual sided For Liquid & Dry,there is a huge variety of sizes to option ,make cooking more easier.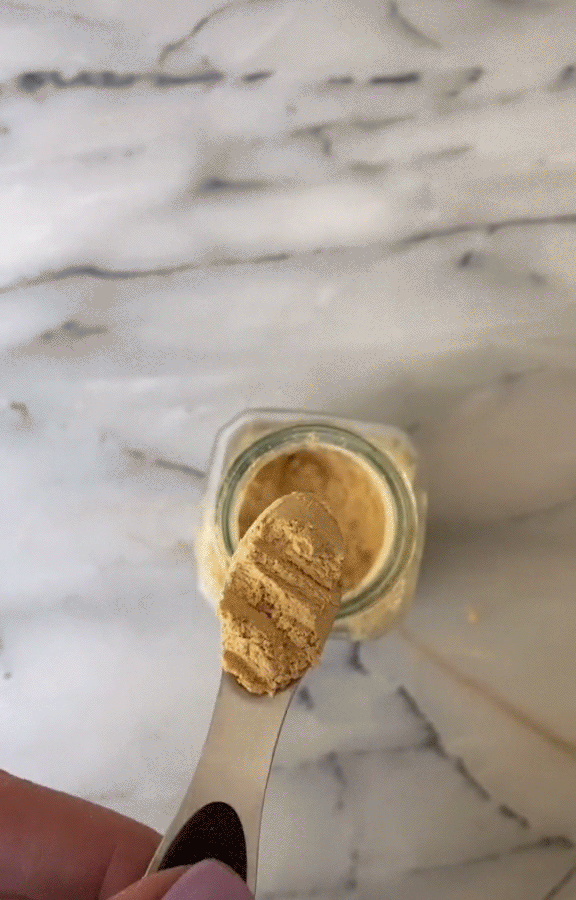 【MAGNETIC FOR EASY USE AND STORAGE 】- Each piece of this measuring spoon set has a strengthen magnetic center allowing for easy tightly stacks together in the drawer ,you don't have to take them out of the ring and put them back in, and they return to their original position with a touch. These measuring spoons store easily and stay together, strong Magnetic do the job to keep these neatly in the drawer.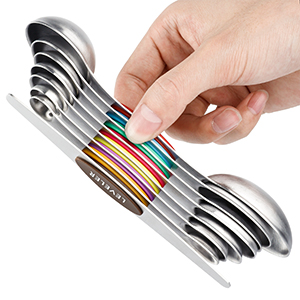 Strong Magnetic Design
Central magnet design is for kitchen storage,they only take up little space.
The magnets is plenty strong,these measuring spoons store easily and stay together. in the storage will not loosen.
7 measuring spoons with a leveler. Different size: 1/8 tsp (0.62 ML), 1/4 tsp (1.25 ML), 1/2 tsp (2.5 ML), 3/4 tsp (3.75 ML), 1 tsp (5 ML), 1/2 Tbsp (7.5 ML), 1 Tbsp (15 ML) plus Leveler.