DO YOU LIKE JUICE? WHAT IF WE TELL YOU THAT YOU DON'T NEED AN EXPENSIVE JUICER TO GET RESTAURANT/ JUICE SHOP QUALITY JUICE? IF YOUR ANSWER IS YES, READ ON!
Imagine making cocktails using fresh juice instead of canned juices. We should warn you though. Once you taste fresh juice in cocktails or mocktails it would be very difficult to switch back to canned juice.
Here's presenting our Manual Fruit Juice Squeezer! It may be manual but requires little to no effort thanks to the design. Thanks to the absence of electronics, the juicer operates completely silent as opposed to noisy machine juicers. While our juicer is designed for home use, the quality and build quality meet commercial/professional grade requirements and needs.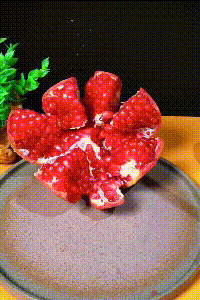 WORKS WELL ON APPLE, ORANGE, LEMON, POMEGRANATE AND LIME
Or tomatoes, cucumbers and other vegetables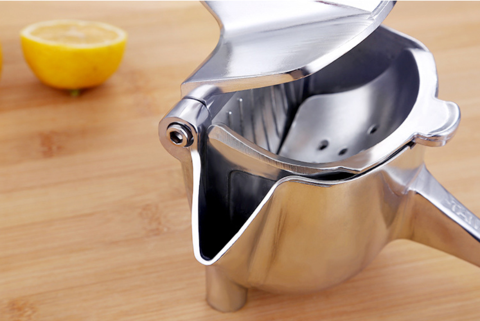 DURABLE AND HEALTHY
The Manual Fresh Juice Squeezer is made of Aluminum Alloy with Chrome plating and polishing. It's completely resistant to corrosion and does not react with any fruits.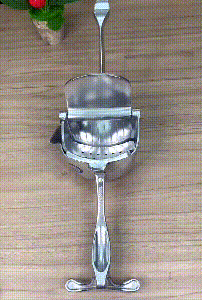 EASY TO USE
The juicer is designed in such a way that pouring the juice into glasses or containers is very easy and spillage is minimal. This is thanks to the V-Shaped juice outlet as well as the sturdy & stable grip offered by the smooth handle.
EASY TO CLEAN
The components of the juicer are removable and very easy to clean. The small footprint allows the juicer to occupy minimal space on counters.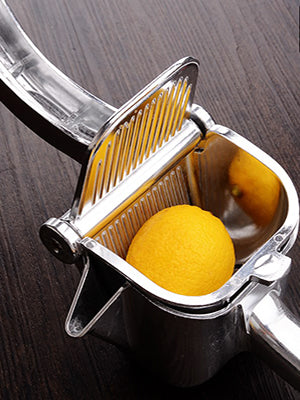 When the family goes out for a picnic, you can also take it with you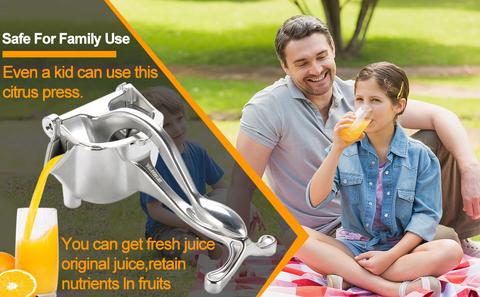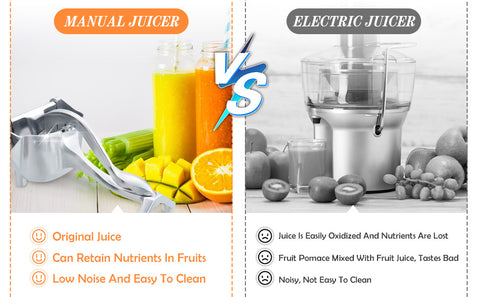 SPECIFICATIONS
Material: Aluminium Alloy
Length: 8.6 Inches
Width: 4 Inches
Height: 4.13 inches
Net Weight: 0.75kg
GET YOURS TODAY!
LIMITED QUANTITY AVAILABLE